Who we are
Cancer Hair Care is a unique charity service founded by Jasmin Julia Gupta. The service is run by the charity Caring Hair (registered charities commission England & Wales 1145258).
We offer free, expert advice and support on all aspects of hair loss, hair loss prevention (scalp cooling) and hair care, before, during and after cancer treatments. We can also offer support to people with non-cancer treatment related hair loss. If you are an individual who would like support you can receive a host of FREE services from our experts. The best place to start is to contact us by email or phone with your enquiry. One of our caring team will respond and get the ball rolling.
Meet the team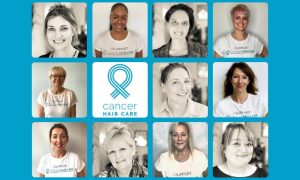 We have a dedicated team of Cancer Hair Care Specialists and Advisors. The team is a mixture of experts in their field coupled with people who have experienced hair loss and cancer treatment first hand. So together we understand the best way to support people going through cancer, illness and hair loss. Our Cancer Hair Care Hairdressing Specialists and Volunteers complete our unique in house training course that is the UK's most comprehensive education on the subject of cancer related hair loss.
What we do
Our aim is to take a holistic approach that means people are supported with the practical, emotional and physical aspects that hair loss and illness brings. The team have completed extensive training, including in-hospital clinical experience and thousands of hours in working practice. It is this experience that enables us to support hundreds of people in need, every year.
We offer services tailored to all genders that cover all age ranges and encompass every individual's ethnicity and unique approach to how each person wishes to approach hair loss.
We promote and protect the physical and mental health of an individual with illness and hair loss by provision of support, education and practical advice. We are the only charity in the UK who is dedicated to supporting people throughout their entire hair loss journey and the only charity to provide clinics and nurse education to the NHS.
We specialise in making everyone welcome with a range of services to meet the needs of the community. For example we offer a Rainbow Service to specifically support the LGBTQI+ community – *see below for more details. Our commitment to supporting people of all ethnicities has resulted in globally first projects. For example our Afro Hair Chemotherapy Hair Loss Guide. Our dedication to diversity and inclusion has been documented by the NHS is a short documentary.
At Cancer Hair Care we create a safe place for EVERYONE to be supported.
We hope that this website and our services are one small way to help during cancer treatment and into recovery.
Together, Let's make hair loss one less worry.
More information:
*Our Rainbow Service – A safe space
At Cancer Hair Care, we have a dedicated LGBTIQ+ Specialist and 'Rainbow Service' that is centred on supporting individuals to navigate their cancer-related hair loss journey. All our team are trained to offer a warm welcome to people from any minority group and we are here to offer you a safe place for the guidance and support you may need.
Hair loss related to cancer treatment can cause anxiety and concern for all types of people – We are here to help. 
Content last reviewed: March 2022
Next planned review: July 2023