Twice as Nice WIG BANK – a caring way to pass on unwanted wigs and headwear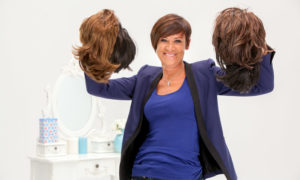 Twice as nice is a beautiful project whereby wigs, headwear and specialist items are sent to us so that we can lovingly clean and pack them ready for another to wear. We have been running this project for 10 years. TOGETHER we have supplied thousands of wigs and headwear items to those in need (as well as helping the environment). 
Many people have told us that donating their wig helped them to move forward (rather than keeping a wig in a box in the wardrobe!).
Covid-19 – We are able to receive items. Please help us by making sure items are freshly cleaned whenever possible. 
Please pack up your clean wig, headwear or items. It's helpful if you can kindly ensure that your wig or items you are sending us are clean. Whilst every item we receive is hygiene checked it really is helpful if items are clean when they arrive. 
Send to:
Wig bank – Twice as nice
Co: Cancer Hair Care
The Caring Hair Studio
5a Middle Row
Stevenage
Hertfordshire
SG1 3AN
If you would like to include a note with your email address then we can drop you a line to say thank you. 
If you have questions about this service please contact us via email or phone. 
Email: Support@cancerhaircare.com
Phone: 01438 311322
Below is a list of items we can take:
Wigs
Headwear 
Hair pieces 
Wig stands
Unused/unopened liquid products e.g. Wig shampoo 
No thank you to:
Hair extensions
Used or open liquid products 

A huge THANK YOU  – together we are making hair loss one less worry.

Content last reviewed: 19th September 2021
Next review due: August 2023