Cancer Hair Care Founder Jasmin Julia Gupta,About Jasmin Julia Gupta
Jasmin Julia Gupta – Cancer Hair Care Founder (trustee) and Director of Information & NHS Clinical Services.
Jasmin is The UK's leading cancer hair loss expert. She is a regular consultant to the NHS, charities such as Breast Cancer Now, Macmillian, Teenage Cancer Trust and many more. She is an educator to NHS nurses as well as creating innovative courses for hairdressers. Jasmin brings her knowledge and passion to everything she does in order to bridge the gap between the medical and beauty world. She says "I want to empower people to make choices throughout their cancer related hair loss journey".
Jasmin has personally provided over 10,000 services to people with cancer treatment induced hair loss. She is a change maker and someone who reaches far and wide to run a truly inclusive and diverse charity. For example she wrote the first ever 'Afro Hair Chemotherapy Guide'. She is an author and writes professional reviews for the NHS and many leading cancer organisations.
Why I started a charity –  Jasmin in her own words…
First of all, no one starts a charity on their own! So I can't start my story without mentioning this crew below!
These are just some of the dedicated team at Cancer Hair Care.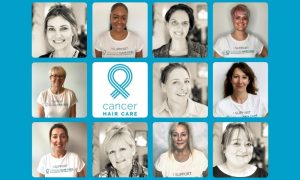 Please get in touch. No question around hair loss and hair care is too small to ask or too big that we can't work through it and support you. Together Let's make hair loss one less worry.
So let's get to why I started the charity…When a 43 year old woman looks you in the eye and says "I feel terribly guilty because I have cancer and I'm more worried about losing my hair then having treatment" you suddenly realise that the information you can give her is potentially life changing advice. But I'm not a doctor, nurse or health worker. I am a hairdresser who has become the UK's leading expert in in cancer related hair loss & hair care. Along with the dedication of amazing friends, family and supporters – together we have created this free charity service.
Cancer Hair Care is the only UK charity solely dedicated to offering guidance before, during and after hair loss due to cancer treatment. Unlike many other cancer charities who have many subjects to cover, we concentrate on all aspects of hair loss and hair loss prevention (scalp cooling), right through to new hair growth into recovery.
My work with people with cancer has taken me all over the UK. In the bedrooms of women whilst I shave their hair off whilst their kids are downstairs playing round the kitchen table, with the husband who is finding it hard to support his wife, in the hospital unit as the new scalp cooling machines are put in, at the bottom of the stairs explaining to kids why mummy's hair will fall out, in the children's cancer unit helping a teenager who has more new hair growth on her face then her head, at the Teenage Cancer Trust "Find Your Sense Of Tumour" conference supporting over 150 teenagers (for the 13th year in a row), at one of our weekly hospital clinics talking to a man who feels embarrassed to ask about hair loss but who really is worrying , at Breast Cancer Now London head office training their team… and now, along with my fantastic team, it's a privilege to be here with YOU.
I have always been passionate about helping people with illness and hair loss as I feel it is an area surrounded by much confusion and without support can be such a traumatic experience. I have seen time after time what a devastating effect the thought of possible hair loss can have on someone who has cancer. But it doesn't need to be this way as I have also seen the empowerment and relief on someone's face when I have explained potential changes in their hair and hair loss fully, offering options, advice and suggestions with care and sensitivity.
The endless thinking…will I lose my hair…will it all come out in one go… will my doctor think I'm just being vain if I tell them how upset I feel about losing my hair…I don't want to wear a wig but what choice do I have…will my hair grow back…I feel pathetic but hair loss is one of the things I'm most worried about…
The endless amount of unanswered questions, hearsay and worry can swamp a woman's thoughts even before she has noticed any change in her hair. Men loosing their hair may have concerns as well – but it's often a different approach that is needed.
I always say there is NOTHING vain in caring about how you look. EVERYONE cares about how they present themselves. Most people who say they don't care normally mean that they don't follow fashion trends. I know this because no one turns up to work in his or her PJ'S!
I have been in the hairdressing industry for over 33 years and have worked my way up the ladder from sweeping the floors as a trainee to being the Hairdressing Director for one of the world's most cutting edge brands, Trevor Sorbie International. There I was also responsible for developing and directing "My New Look" a wig customising cancer organisation that was the first of its kind in the professional hairdressing industry aiming to educate hairdressers to cut wigs for cancer patients.I was also responsible for salons, staff, products and hair care globally.
I am fortunate to have had a very glamorous career right at the very top of the hair fashion industry and have worked in over 20 countries, with celebrities, been on TV and radio, worked on makeovers, catwalk shows, magazines and fashion shoots. I have travelled the world teaching and directing shows for up to 10000 hairdressers at a time and I've even negotiated with Buckingham palace and visited number 10 downing street in recognition of my work. To top it all I was hairdresser to Mr Trevor Sorbie himself. Who cut the celebrity hairdressers hair? I did!. I've always been a skilled and caring hairdresser but I have never had the ambition to be the celebrity hairdresser myself.
Now I feel that my voice is a guardian over all of the incredible experiences that every person has gracefully shared with me. I can tell you that without any shadow of doubt there is nothing that is as satisfying, challenging or heart-warming as when you see the look on someone's face when they try on their wig for the first time and are happy with it or cutting that first hair style of new hair regrowth into a funky pixie cut on someone who thought short hair would never be for them.
I am so happy to support a very different type of VIP. Very Important Patients. To share the knowledge, that I am so fortunate to have gained, means that I can give something back to the customers and hair industry that I love so much. I really care about every person's experience of hair loss and hope that my charity service within Cancer Hair Care is one small way of helping people through illness and into recovery.
With love and respect
Jasmin x
Cancer Hair Care Founder (trustee) and Director of Information & NHS Clinical Services
Content last reviewed: April 2023
Next planned review: February 2024