Cancer Hair Care offer the UK's only '360' hair loss service for teens. Supporting children and young people for the entirety of their hair loss journey. The service is FREE of charge. 
"Being a teenager can be tough. When a teenager is diagnosed with cancer their whole life is suddenly turned upside down. At a time when the natural changes in their appearance would already be heightened, facing hair loss and cancer can lead to trauma. The good news is that when a young person engages with our service we can offer them unique support and reduce their anxiety. 
Our specially trained Cancer Hair Care Youth Specialist Team coordinate everything needed. From making a plan to hair loss, navigating wig requirements, cutting off hair safely, scalp care and headwear right through to new hair growth. 
We hold unique workshops and skills sessions so that young people are empowered to create their own looks. These include our 'back to education' sessions, whereby we can custom make headwear to match school uniform colours and 'teen workshops' where young people can meet peers and discus ideas for coping with hair loss. 
Every session is facilitated and supervised by our team of experts. Our specialists – specifically trained hairdressers, attended the UK"s only formal training in cancer treatment related issues faced by young people. Attending a 10 module course as well as 'in practice' training, they are highly knowledgeable in every aspect of caring for young cancer patients with hair loss. 
This year we have supported hundreds of young people by being by their bedside with services (virtual when required) as well as sending hundreds of hair loss support packs to their home or hospital bedside. Packs contain specialist scarves and hats, scalp care products, fake fringes, caps with hair and many other items that give young cancer patients control. 
If you know of a young person who needs our support please get in touch. We are always happy to offer support to young people and their parents or carer" – Jasmin Julia Gupta – Cancer Hair Care Founder/ Director Information & NHS Clinical Services
Here's what some of the young teenagers have to say:
"Hair loss matters to young males as well". 
Aiden has joined us in our thinking process that has created the need for ' young male' resources. Young men often feel very left out of hair loss support. TOGETHER we have been piloting workshops. We hope to gain support and grant funding to ensure every young male doesn't miss out on they support they need. 
New hair – I'm ready to move on. 
"Thanks so much for all the scarves, headwear and new growth kit. Unexpected and so nice to see you guys again". 
These young females all attended sessions via UCLH hospital, throughout their treatment gaining confidence along the way.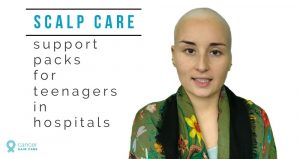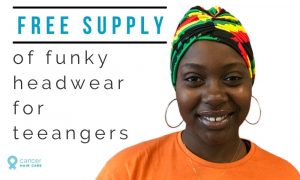 Commonly asked Q & A
Are services FREE?
Yes. We offer a range of services and have some enhanced services to particular hospitals where we offer bespoke packages of support. UCLH hospital currently has enhanced support. Please do contact us as we will try and offer any young person some level of support. 
How are your services funded? 
We are always looking for supporters. We support our work with donations, fundraising and grants. This project at UCLH hospital has been funded by a grant from the John Lyon's Charity. 
With thanks to all our supporters and in particular 'John Lyon's Charity' for providing a grant to facilitate 500+ children and young people at UCLH hospital to receive free services.