At Cancer Hair Care we are very lucky to work with a diverse range of people and fully support them with their hair loss experience during cancer treatment. We have long been champions of positive inclusivity as it encapsulates our charity's vital work.
We co-create our services, information and tools alongside the people who need to access them. The result is both reflective and ongoing and has seen the creation of many tools that make sure everyone is supported. For example our Afro Hair Chemotherapy Guide is a global first. It is a step towards making sure that people of colour have the specific information they need.
Multiple skin coloured Hair Loss Dollies – Can you knit for us?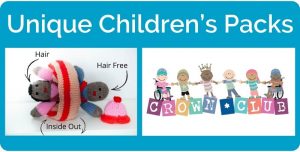 Our unique Hair Loss Dollies are available in multiple skin colours and hair types and gently help to explain hair loss to children. These beautiful knitted dollies turn inside out with hair on one side and no hair on the other.
Can you knit for us?
If you knit, or know someone who does, please ask them to get in touch with our charity to register to join
our volunteer knitting team. Our charity Cancer Hair Care has been supporting children and their
parents/carers to deal with hair loss for 11 years.
'Topsy Turvy Doll' that explains hair loss – available in multiple skin colours
To explain why Mummy is going to lose her hair
To explain to a young child why they will lose their hair
For nurses and play therapists working in cancer hospitals
For cancer support organisations to display and signpost
For schools and playgroups to encourage playing with toys that help children manage 'difference'
To join the knitting team please email us at: support@cancerhaircare.com