Encouraging reasons to wear a wig
wear wig,Encouraging reasons wear wig, hair replacement system
Let's take a look at some of the positive reasons to wear a wig, hairpiece or hair replacement system.
Look good and feel better – There is nothing vain in caring about your appearance and style. Our hair is just one of the ways we express our individuality and image and for most people styling it is part of their daily routine. So when our image is altered by hair loss, a wig or hair replacement helps you to continue with a look that feels comfortable and familiar. Most people who wear one agree that when they look good it helps them to feel better.
Privacy – For many people hair loss can be the only outward sign that they are having cancer treatment. A wig can therefore offer you the privacy to decide when and with whom to reveal your cancer journey to.
A new you – Do blondes, brunettes or redheads have more fun? Now is your chance to be as daring as you wish. Whilst you can often replicate your normal hairstyle, you can also have fun trying different looks and styles.
Flexibility – You can have several different styles and customise them to suit your face shape. You can add accessories and try them on in advance.
Confidence – Covering your head with a wig or hairpiece can be a great confidence booster and help you to feel less self-conscious about the change to your image.
Extra time in bed – You can pop a wig onto a stand overnight and hey presto it is there ready in the morning. Most synthetic wigs are easy to take care of, only need washing occasionally, and are left to dry naturally returning to their style with very little effort. No need to get up half an hour early to wash and style your hair!
Take control – If you are upset by hair loss then wearing a wig or hairpiece helps you to take control of the situation. You decide what style, make, colour and texture wig you wish to wear. Wigs and hairpieces have advanced tremendously in the past few years and the choice available is bigger than ever.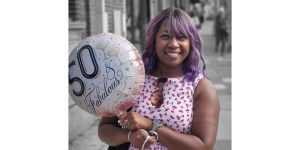 Content last reviewed: March 2023
Next planned review: February 2025