We spoke to the inspirational Ediri, who shared her hair loss experience with us ahead of her 50th birthday celebrations. 
I was feeling a bit overwhelmed. My 50th birthday was fast approaching and I had very short, new hair growth. There was a lot less hair on the centre of my head and I didn't know if I should cut it all off and be bare or wear a scarf or wig. I felt a bit lost about how I should look.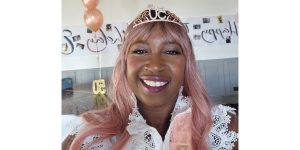 Talking to Cancer Hair Care was a great support. I had the time and space to really consider how I wanted to look – and feel – for my big celebrations. Once I'd decided on a fabulous, textured purple wig, I felt really happy. I also had this pink one for other birthday celebration events.
I wore my wig around the house to ensure it would feel comfortable ahead of my party. Having a wig grip underneath and some headwear to hand were the final confidence boosts I needed. 
I wish I had known about Cancer Hair Care from when I was first diagnosed. They could have helped me to better navigate my wig journey. To ensure others have a different experience, I'm helping the charity to amplify its reach for women of colour. 
The expertise, kindness and understanding I experienced was fantastic. I'm supporting Cancer Hair Care's work to ensure that women of colour can have access to appropriate guidance around both their natural hair type and especially about their wig supply. 
Jasmin's Top Tips:
Plan in advance 
When you have a celebration or special event coming up, try to plan in advance. Set aside some 'me' time to create a visual board of what type of image you are looking to create. You can do this digitally by using apps such as Pinterest or cut out your inspirational ideas from magazines. 
Do a test run 
Make sure that anything new, such as a wig or headwear, is worn before the big day. Aim to wear these items for at least 4 hours around the house to ensure a good fit and feeling.
Look for inspiration 
Our Directory suppliers are comprehensively tried, tested and trusted by us. Make yourself a cuppa and take some time to look through for further inspiration.